Deans Ave Traffic Analysis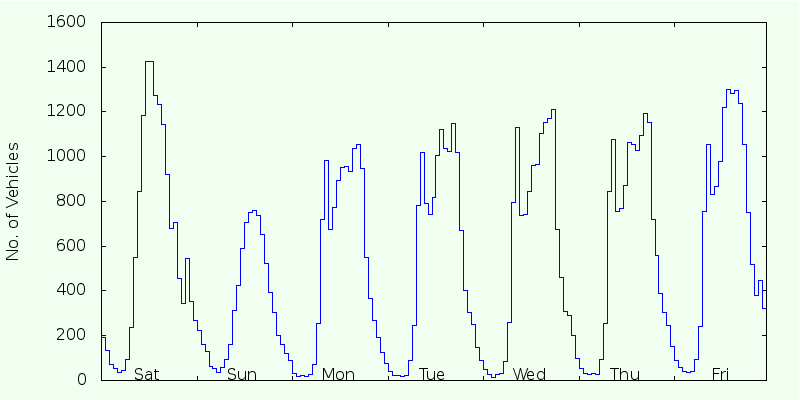 Deans Ave Traffic Volume
The plot shows the hourly traffic volume for a week in May 2012.
There are a number of points that arise:
The pattern is diurnal, with high volumes between 7 am and 7 pm and low volumes around midnight.
On weekdays:

There is a spike between 8 and 9 am - morning rush hour;
The maximum volume occurs between 3 and 6 pm, varying from day to day.

In the weekend:

The volume on Sat is the highest of the week, corresponding to people using Hagley Park for sports;
The volume on Sun is the lowest of the week;
There was a spike in volume between 9 and 10 pm on Sat. Maybe there was an event that finished in this hour?
It wasn't a Crusaders' game because they had a bye that week.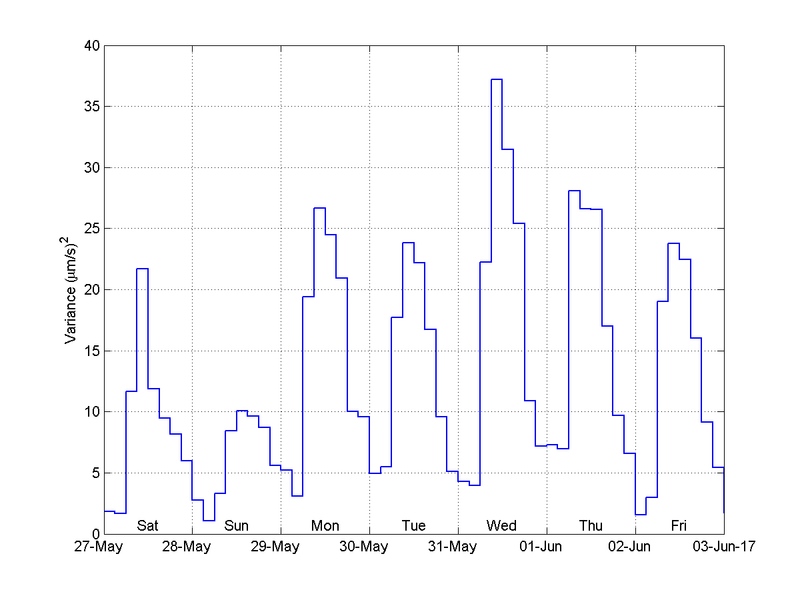 Raspberry Shake Variances
The plot shows 3-hourly variances of vertical ground velocity as measured by my Raspberry Shake for a week at about the same time of year as the traffic volume plot. It is typical for a week when there have been no earthquakes.
Variance is a measure of the energy in the signal. Mathematically, it is the standard deviation squared.

Notes
There is a diurnal pattern, just like for traffic volume;
The minimum variance at midday occurs on Sun, as for traffic volume;
The Sat maximum is less than the weekday maxima, yet the traffic volume is greater on a Sat.
Perhaps there are more cars, but less heavy trucks on a Sat, meaning the ground motion is less?
The peak in variance on Wed coincides with rubbish day when heavy trucks are roaming around from early morning